Covid-19 Info: We appreciate your support of us and other small businesses and are committed to keeping our staff and customers healthy and safe during this difficult time. Please expect delays in shipping and restocking. See updates on issues caused by the Covid-19 Pandemic here and our company Facebook Page.
Announcements
The latest announcements about the store - new features, how to shop, so much more.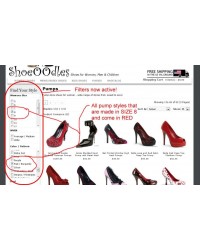 Filtered Search
I am so happy to say filters are now working on the stores! Filters let you more easily find exactly the style, size and color you are looking for among our hundreds of styles. For example, see the screenshot at right from our women's shoe store, Shoe Ooodles. Now instead of just browsing page after page of women's pumps (which you can still do of course!), you can select your size by clicking on it in the window at the left of the page (the example shows size 8) which would display all shoe styles that are made in that size. If you also select a color like the Red / Burgundy shown in the e..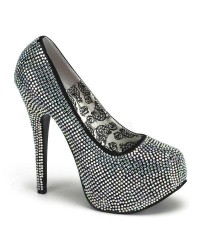 I finished updating all the Demonia and Pleaser shoes and boots currently on the store with their new pricing. Most prices have actually dropped - some by as much as 10-20%! Of course a few items did go up - mostly the genuine leather boots, but the vast majority of items are now lower priced! I was a bit too ambitious to think I could get the prices updated and add the other information, stock update and additional photos at the same time. I will finish doing this probably over the next few weeks, but the prices are at least current. I will also be adding many more Please..
Showing 1 to 2 of 2 (1 Pages)
Bestsellers at ShoeOodles Shoes for Women, Men and Children