We appreciate your support of us and other small businesses and are committed to keeping our staff and customers healthy and safe during this difficult time. Please see our updates on the Covid-19 Pandemic here and our company Facebook Page.
Article Search
Articles meeting the search criteria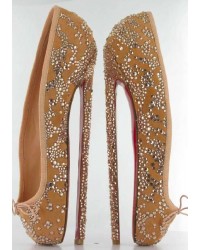 Ballet Shoes
Designer Christian Louboutin seems to have taken a page out of Pleaser USA's catalog to design these sparkly ballet heels. Louboutin teamed with the English National Ballet to create these sparkly nude satin heels inspired by ballerina toe shoes and slated to be auctioned off at the Summer Party gala in London along with other coulture created items. They have an 8 inch high stiletto heel with the signature red bottom of course and tons of sparkling rhinestones. I've been seeing this image all over the web mostly with disdain that no one could wear this style of shoe. But Pleaser has had..
Showing 1 to 1 of 1 (1 Pages)